 Laatst ging ik naar Wijnbar Paskamer in Amsterdam voor een wijnproeverij in combinatie met bijpassende hapjes. Dat was leuk, lekker en erg leerzaam!
Wijnbar Paskamer
Paskamer is een Wijnbar in De Pijp in Amsterdam, waar je terecht kan voor een heerlijk glas wijn en een hapje. Maar wat nog veel leuker is: je kan er een wijnproeverij boeken met bijpassende hapjes. En dan kan je natuurlijk gewoon gezellig borrelen en eten, maar als je wil, kan je ook echt wat leren. Ik en vriendin Jacobien gingen op een maandagmiddag (want waarom ook niet) naar de Paskamer en we leerden van Wouter van Paskamer heel veel over wijn-spijscombinaties en natuurlijk over de wijnen en het proeven zelf. De tafel staat vol met alle materialen die we nodig hebben: proefglazen, boeken (al hoef je daar natuurlijk helemaal niet in te kijken als je dat niet wilt), water, brood en natuurlijk spuugbakken.
Ik vind het zelf tijdens een proeverij prettig om te spugen zodat ik 'fris' blijf en goed kan blijven proeven, maar als je het veel leuker vindt om de wijn lekker door te slikken, moet je dat gewoon doen. Het is jouw feestje! We beginnen met het proeven van een wijn uit een zwart glas. Een van jullie begon hier laatst ook al over en ik had dit nog nooit gedaan. Het leuke van zo'n zwart glas is dat je zonder invloed van het uiterlijk de wijn gaat proeven. Normaal gesproken check je eerst goed hoe een wijn eruitziet voor je hem gaat proeven, en op basis daarvan kan je al wat conclusies trekken. Dat kan natuurlijk je smaakervaring beïnvloeden. Als ik bijvoorbeeld een rode wijn zie, ga ik anders proeven dan wanneer ik een witte wijn zie, want je verwacht gewoon iets anders. Maar zo is het ook als ik een heel donkergele wijn in mijn glas heb. Dan verwacht ik tropisch fruit, misschien wel wat zoets, iets vettigs en boterigs en veel smaak. Dus: met dat zwarte glas wordt dat allemaal weggehaald.
Met z'n drieën bespraken we wat we proefden. Ik werd totaal verrast. Ik rook en proefde namelijk tropisch fruit en dacht echt dat ik een witte wijn proefde, iets wat op hout had gelegen. Bleek het een Pinot Noir te zijn… Wauw! Echt een verrassing én heel leerzaam. Om de basis van wijn-spijs te begrijpen is het heel leuk om vooraf een klein proeverijtje te doen met citroensap, suiker en zout. Deze smaken beïnvloeden namelijk heel erg hoe de wijn die je erna drinkt, smaakt.
Om de basis van wijn-spijs te begrijpen is het heel leuk om vooraf een klein proeverijtje te doen met citroensap, suiker en zout. Deze smaken beïnvloeden namelijk heel erg hoe de wijn die je erna drinkt, smaakt. Je smaakpapillen passen zich aan aan wat je drinkt en eet. Een wijn die je drinkt na een lepeltje citroensap, smaakt veel zoeter en aangenamer. Een wijn na een hapje suiker is juist heel zuur en onaangenaam. Zout maakt wijn meestal lekkerder. Geinig, hoe dat werkt! Zeker als je het zo precies kan proeven.
Bij het brood en met het blindproeven proberen we twee wijnen. Als eerste dus de Pinot Noir en als tweede een Nebbiolo. Het eerste hapje dat we krijgen zijn witte asperges! Je ziet witte asperges, rauwe andijvie, dressing van lavas, kokkeltjes, tuinbonen en mayonaise van foelie. Hierbij drinken we de Höfflin Weisser Burgunder uit Baden (Duitsland) uit 2016. Deze wijn smaakt naar perzik, vlierbloesem, vuursteen en toast. Dit gaat te gek samen met het gerechtje: de wijn is vrij zuur, wat het gerechtje ook is, en qua intensiteit komen ze goed overeen. Lekker! Als je me érgens blij mee wilt maken, is dat naast wijn absolúút een fantastische steak tartare. Deze steak tartare wordt geserveerd met parmezaan, balsamico-azijn en een gepaneerd en gefrituurd eitje. Dit vind ik zó lekker. Die verschillende texturen, het zachte rundvlees, de zoute (umami!) parmezaan, och.
De wijn hierbij is een Weiler Schilpf Spätburgunder, ook uit Baden Duitsland. Duitse wijnen worden gewaardeerd bij Paskamer en dat vind ik top, want ik ben ook gek op druivendrank van onze oosterburen. Deze Pinot Noir smaakt naar rood fruit, aardbei, bosgrond en vanille en is zacht van tannines en smaak. In restaurants bestel ik wel vaker steak tartare en het is altijd een verrassing wat je erbij krijgt, vaak is het wit of rosé, maar zo'n lichte rode wijn is misschien wel lekkerder. Het echte feest kan beginnen, want de kaas komt op tafel. Wouter legt uit dat het het lekkerste is als je bij elke kaas een aparte wijn drinkt, en daar ben ik het natuurlijk roerend mee eens 😉 Zonder dollen, vaak krijg je bij een kaasplank port of px en dat is erg lekker, maar vaak past het niet bij de lichtste kazen die op de plank liggen. Dus Wouter geeft ons drie wijnen bij de kazen die we krijgen.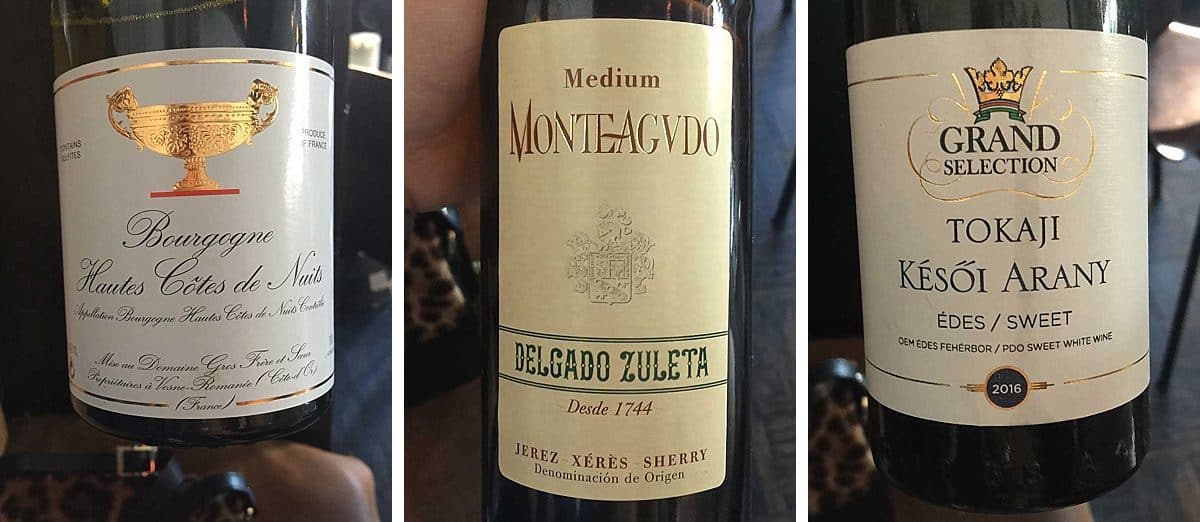 Bij de eerste kaas, een 'Witte van Keulingen', een Nederlandse schimmelkaas die wel wat wegheeft van Camembert. Méga romig en vet, niet te sterk van smaak. Hierbij drinken we een witte wijn, Een  Bourgogne Hautes Cotes des Nuits. Dit is een Chardonnay die op nieuw hout is gerijpt, waardoor deze smaken van vanille en kokos krijgt. Verder smaakt 'ie vol en romig, naar tropisch fruit, karamel en banaan. Ik drink zelf bij witte kazen zoals brie, camembert en geitenkaas ook graag wit en dit is echt een goede combinatie. Die ga ik onthouden: houtgelagerde Chardonnay met witte kaas.
Daarna eten we een kaas van Terschelling! Yes, dat kan alleen maar goed zijn 😉 Het is de 'grijze duinen' kaas die gerijpt is in bunkers. Ik proef er bijna gezouten karamel in, hmm.Daarbij een sherry! Ik drink al jaren graag Pedro Ximenez maar leer de laatste tijd ook ander soorten sherry kennen. Zoals deze, de Monteagudo Medium sherry, dit is een oloroso sherry (deze is geoxideerd) die gezoet is met een beetje Pedro Ximenez. Dat geeft smaken van walnoten, rozijnen en hij heeft ook een licht bittertje. Goed alternatief voor PX, als je wel zin hebt in zo'n zoete 'dessertwijn', maar niet in dat héle zoete en stroperige. Ik ga hem zelf onthouden in ieder geval.
Als laatste de blauwschimmelkaas uit Twente, daarbij drinken we een Tokaji! Dit is een wijn uit Hongarije die je vindt van droog tot volzoet. Dit is de Kesoi Arany Tokaji en deze smaakt naar perenijsjes, vanille en honing en je kan je misschien wel voorstellen hoe goed dat smaakt bij de romige en pittige blauwschimmelkaas…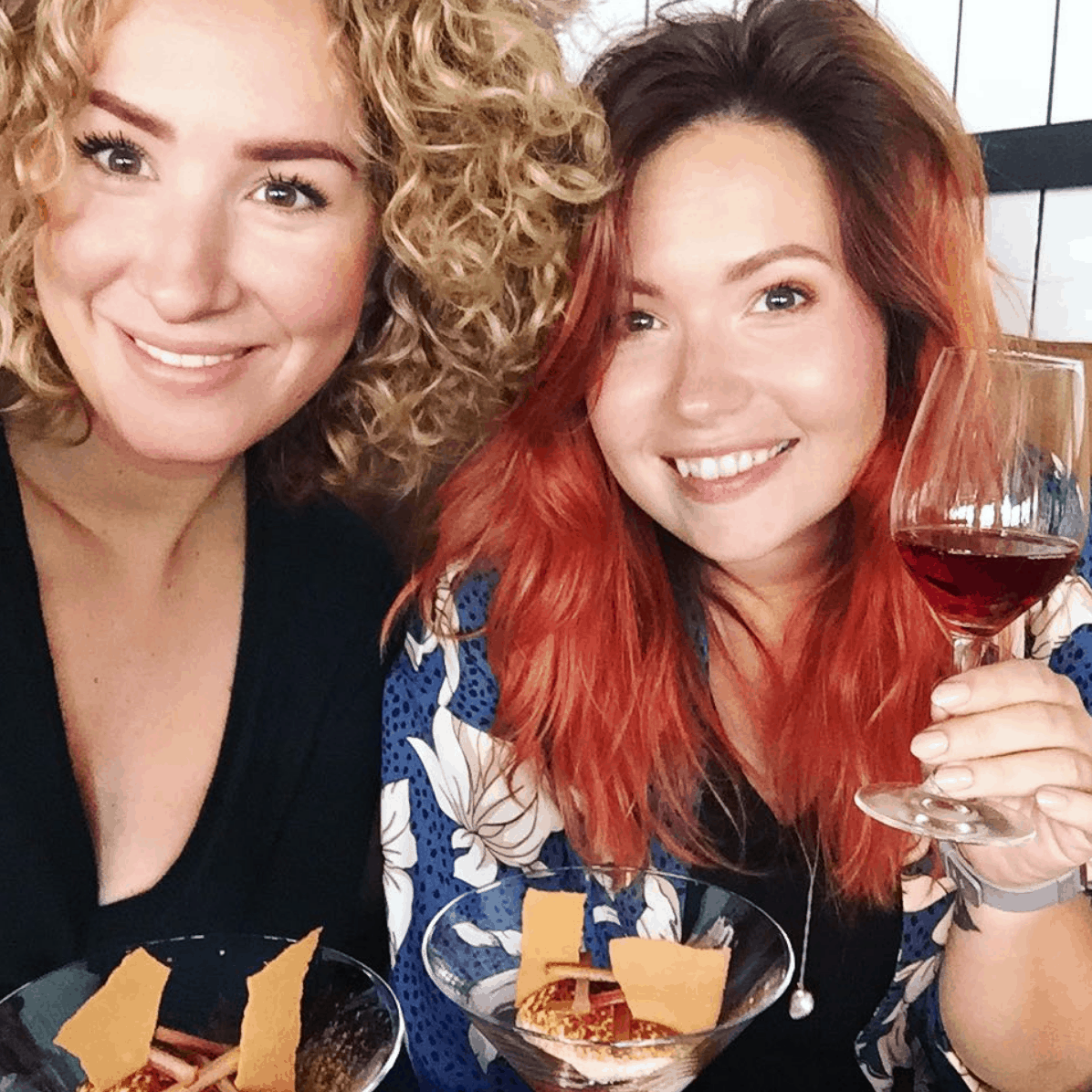 Dan overkomt me wat me zo vaak overkomt als ik ergens ga eten: ik vergeet een foto van het toetje te maken. Een vrij fantastisch toetje, kan ik je zeggen. We hebben wél een selfie gemaakt, én een foto van de wijn, maar van het eten, ho maar. Op de selfie zie je het glaasje nét in beeld. Ik kan je vertellen wat het was: een dessert met een coulis van wilde aardbei, creme van witte chocolade, rabarber en bovenop koffiepoeder. Verrassend lekker, die koffie in combinatie met witte choco en rood fruit. We drinken hierbij een van mijn favoriete dessertwijnen: Brachetto! Brachetto d'Acqui uit Piemonte is de rode tegenhanger van de Moscato d'Asti. Het is een hele frisse, zoete, bubbelende dessertwijn die smaakt naar aardbeien. Dit is gewoon een snoepje! En de combinatie met het dessert is gewoon perfect. Lekker fris, licht, laag in alcohol en veel smaak.
Deze proeverij kost €47,50 per persoon en dan ben je anderhalf tot twee uur zoet. Jacobien wist nog niet zoveel over wijn en leerde tijdens deze proeverij zoveel! Natuurlijk leerde ik ook het een en ander, maar ik werd vooral enorm verrast door de lekkere wijnen, de kennis en het enthousiasme van Wouter en de fantastische wijn-spijscombinaties. Het is ook erg tof om eerst wat theorie te krijgen en daarna alles te proeven, dan snap je ook beter waarom bepaalde combinaties nu zo goed en lekker zijn. Als je het leuk vindt om wat meer te leren over wijn en om gewoon lekkere dingen te proeven, is deze proeverij echt een enorme aanrader. Net even wat meer over wijn leren in een relaxte setting! En natuurlijk: genieten. Check de website van Paskamer voor meer info!
Ik ben voor deze proeverij uitgenodigd door Paskamer.