 Dag twee is aangebroken! Gisteren was een volle dag waarin we al zoveel gezien en geproefd hebben, vandaag gaan we naar nog eens twee huizen. En natuurlijk lekker lunchen en wat dacht je van gewoon een glas champagne drinken op een terras? Let's go!
Moët & Chandon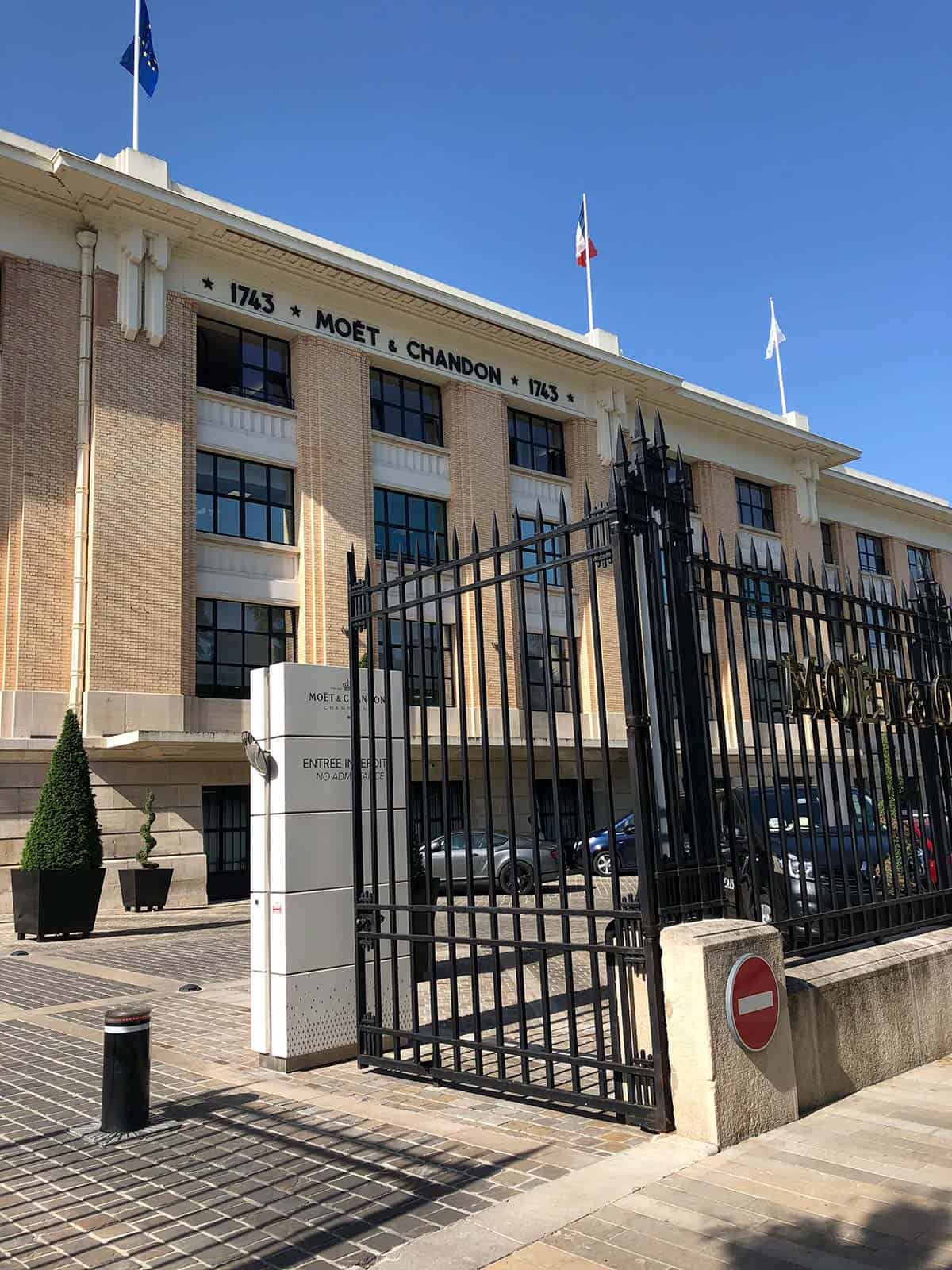 We starten de dag bij Moët et Chandon, die aan het begin van de Avenue de Champagne zit, met een waanzinnig groot pand. Vooraf werd Moët me veel afgeraden, het zou erg toeristisch zijn, maar ik was toch heel erg nieuwsgierig naar het beroemdste champagnemerk ter wereld. Juist doordat ik er vooraf hier en daar wat honends over had gehoord was mijn interesse vergroot.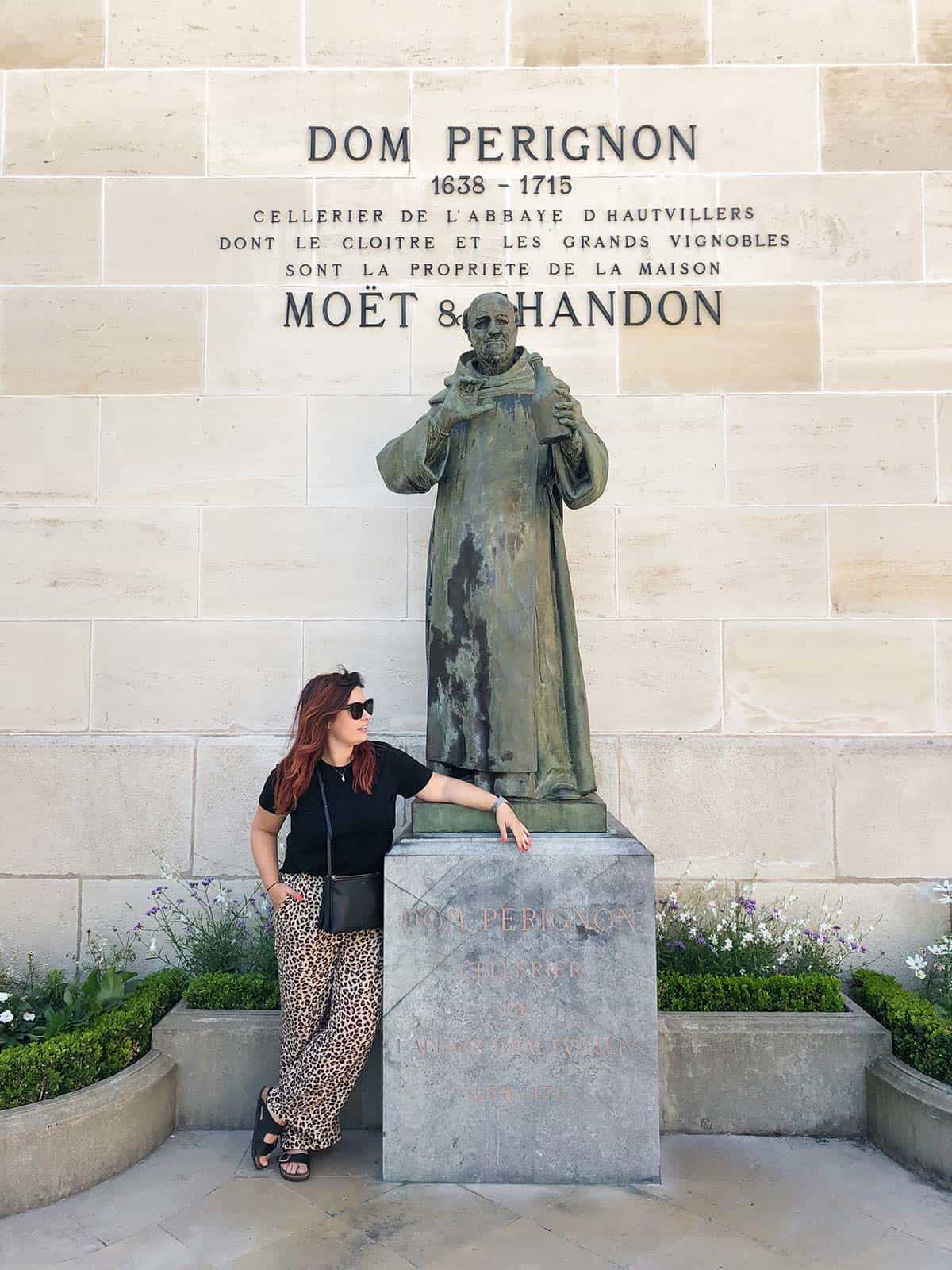 Als je aan Moët denkt, denk je niet meteen aan Dom Perignon, maar het is wel degelijk Moët et Chandon die deze legendarische champagne maakt. Dom Perignon wordt alleen als vintage uitgebracht en natuurlijk in veel kleinere oplage dan de Moët wijnen.
Later daarover meer. We gaan met een groepje mee met een rondleiding. Moët heeft een rijke historie en daar wordt natuurlijk graag over verteld. Ze zeggen zelf dat ze het eerste champagnehuis in Epernay waren, maar mijn Champagne boek van Peter Liem zegt wat anders. In 1729 startte Ruinart namelijk in Épernay en in 1743 Moët. Maar! In het boek staat 'Claude Moët had been a wine merchant since 1716, but the house recorded its first sales of spalking wine in 1744.' Enne, daarvoor was zelfs Chanoine er nog in 1730. Dus ja, Moët was al wel een wijnhuis in 1716 maar toen verkochten ze nog geen bubbels. Ze zitten dus al wel sinds 1716 in Épernay, maar ze zijn níet het eerste champagnehuis in Épernay. Heerlijk toch, deze feitjes. Er staat allemaal ouds uitgestalt bij Moët uiteraard, zoals deze flessen. De eerste uit 1788 is de oudste champagnefles die ze hebben. En er zit zelfs nog champagne in.
Het stukje historie van Moët
Hier kan je natuurlijk boeken over volschrijven, maar laat ik het voor je samenvatten. Zoals ik al zei was Claude Moët dus al een wijnhandelaar, maar in 1743 begon hij echt met champagne maken. Waarom? Omdat hij het verzoek kreeg van Koning Louis XV. In 1833 werd de naam veranderd van Moët naar Moët et Chandon zoals we het vandaag kennen. Dat is omdat Remy Moët (de zoon van Claude) ging samenwerken met zijn schoonzoon, Pierre-Gabriel Chandon de Briailles. Dus zijn achternaam kwam erbij.
De 'Brut Imperial' van Moët et Chandon ken je vast wel en is geïntroduceerd in 1860 en is nog steeds hun bestverkopende product. Het is het grootste doel van het champagnehuis om elk jaar een constante Brut Imperial uit te brengen die precies hetzelfde smaakt als voorgaande jaren. Ze maken ook wel vintages (waar ze mee begonnen in 1842), maar de grote focus ligt op de Brut Imperial.
Enne, wat is er toch met die Dom Pérignon? Dom Pierre Pérignon was een monnik en belangrijke pionier op het gebied van champagne. Er wordt gezegd dat hij de champagne methode zou hebben uitgevonden, maar dat is niet waar. Maar! Moët heeft dus wel hun 'prestige cuvée' naar hem vernoemd, en de eerste vintage verscheen in 1921 (en werd verkocht vanaf 1936). We gaan de kelders in! Moët heeft de meeste aantal kilometers van alle champagnehuizen: maar liefst 28 kilometer. We krijgen een rondleiding door een klein stukje. Je ziet veel kalk in de kelders hier en dat voelt koud, relatief zacht en een vochtig aan. Bijna plakkerig. De perfecte bodem voor de wijnstokken hier omdat het heel goed vocht vasthoudt. Zeker op deze hete, droge dagen (het is 36 graden) is dat essentieel, anders krijgen de stokken waterstress. Overal in de kelders zie je dit. Stapels en stapels flessen. Ze liggen te rijpen voordat ze verkocht kunnen worden. De dame die ons rondleidt, verteld: 'Wij weten niet wat voor wijn hierin zit. Alleen de cellar master weet het. Het zou dus maar zo een hele oude Dom Pérignon kunnen zijn. Maar ik weet het niet.' Er liggen alleen in dit 'vak' 90.000 flessen en gezien de stof er bovenop lijkt het me dat dit er al eventjes ligt… En ik kan me ook voorstellen dat ze hun vintage Moët & Chandon niet zó lang laten rijpen. Dusse, goede kans dat dit een hele goede vintage Dom is van een paar honderd euro per fles. Maar je weet het niet! Niemand weet het. Waar is die cellar master? Elk hoekje van de kelder ziet er weer anders uit en overal zien we stapels en stapels wijnflessen. De wijn ligt hier te vergisten én te rijpen. Dus zodra de stille witte wijn in de fles is gedaan voor de tweede vergisting (waardoor de bubbels in de wijn komen) liggen ze hier. Gewone non-vintage champagnes moeten volgens de regels twaalf maanden in de fles met de gisten rijpen en drie maanden na de dégorgement (verwijderen van de gistprop). Vintage champagnes moeten in totaal drie jaar rijpen. Maar de meeste huizen doen dit véél langer. Natuurlijk proeven we ook de twee paradepaardjes van Moët, de Brut Impérial en de Brut Impérial Rosé. Brut betekent dat ze tussen de 5 en 15 gram suiker per liter hebben (die is toegevoegd na de dégorgement), bij deze champagne is dat 9 gram. Ik vind de Brut champagnes van Moët lekker, maar ik vind dat er net iets teveel zoetheid aanwezig is. Het is een easy drinking champagne met veel fruit (citroen, perzik) en een randje gistsmaken als brioche. De rosé is veel fruitiger, denk aan framboos en aardbei. Wist je trouwens dat de Champagne de enige plek ter wereld is waar je rosé mag maken door witte wijn met rode wijn te mengen? Niet elke producent doet het zo, maar het mag en het gebeurt veel. Meestal wordt er dan 80% witte wijn gebruikt (chardonnay) met 20% rode wijn (pinot meunir of pinot noir of een mix van de twee).
Lunchen bij La Banque
We hebben trek en dat is mooi, want we gaan lunchen bij La Banque. Je raadt het al, in een prachtig oud gebouw dat vroeger een bank was. La Banque is groot en druk, en achter het restaurant is ook nog een prachtig groot terras. Daar strijken we neer. En daar worden we verrast door een gigantische champagnekaart. Zoveel keus. En ook nog eens zoveel op glas. Heerlijk, je kan ook een proeverij doen met drie champagnes voor €21. Gezien we nog moeten rijden en de volgende afspraak in de agenda staat, houden we het simpel. Ik ga klassiek Frans voor een steak tartare en die is gewoon top. Goed aangemaakt, veel smaak, wel een beetje fijn naar mijn smaak (ik houd wel van een beetje textuur in zo'n tartaar), mooi eigeel erop, en die fríetjes… Na een café gourmand en ik kan wel zeggen dat ik er weer helemaal bij ben. Aanrader.
We stappen in de auto, we laten Épernay achter ons en we gaan naar Reims! We genieten onderweg weer van de prachtige uitzichten op de wijnvelden.
Pommery
Nadat we verkeerd rijden en bij de grote production site voor de deur staan, komen we aan bij het imposante huis van  Pommery. Van buiten ziet het er waanzinnig uit. Pommery is in Reims opgezet in 1836. Het startte klein, maar toen Louis Alexandre Pommery overleed, ging weduwe Madame Pommery lekker met het bedrijf aan de slag en liet de productie van 100.000 flessen per jaar groeien naar 2 miljoen flessen per jaar. Het bezoek aan Pommery is totaal anders dan die aan de andere huizen. Waar iedereen mij vertelde dat Moët een commerciële tour had, vond ik dat juist bij Pommery. Ze doen tours die je zelf kan volgen, met een app op je telefoon. Het kan ook zonder, dan loop je gewoon door de kelders en krijg je achteraf een kleine proeverij.
De kelders van Pommery zijn echt like no other. Deze kelder staat vol kunstinstallaties. Tenminste, het deel waar je rond kan lopen als gast. De kelders zijn een soort museum met een wisselende tentoonstelling. Ik was hierdoor enorm verrast, ik keek mijn ogen uit. De wandeling door de kelders vond ik erg verrassend, maar doordat je geen uitleg krijgt, is het ook een tikje nietszeggend. Natuurlijk kan je de app op je telefoon gebruiken, maar daarin wordt vooral veel toegelicht over de kunstwerken die er staan. Minder over de wijnen zelf of de maaktechnieken of het verhaal achter Pommery.
Ik kreeg door een zeer ongeïnteresseerde meneer twee glazen champagne in mijn glazen geplempt. Desinteresse was mijn totale indruk van dit bezoek. Zo jammer, want juist de verhalen zijn interessant. Vertel me wat je me inschenkt, wat er met deze wijnen is gebeurd, hoe ze zijn gemaakt. Ik heb tijdens mijn hele bezoek één personeelslid gezien die zin had in zijn werk en dat was de meneer die me toegang gaf tot de kelders. 'I hope you're not afraid of heights!'  zei hij breed lachend. Anyway, de wijnen. Die waren prima (de non-vintage Brut is heel fruitig), maar ik was wel erg underwhelmed door de Grand Cru Royal 2006. Van een vintage verwacht ik rijpingstonen en complexiteit en dat was hier nauwelijks aanwezig.
Pommery conclusie: ga als je de museum-achtige kelders wilt zien, want die zijn hartstikke indrukwekkend. Verwacht alleen geen begeesterde merknemers die vol passie over hun product en hun werk vertellen. We checken in in ons tweede en laatste verblijf van deze trip en dat is het Continental Hotel in Reims. Middenin het centrum met prachtige kamers. Hier gaan we vannacht héél lekker slapen. Het is inmiddels vijf uur en we maken een klein wandelingetje door het centrum.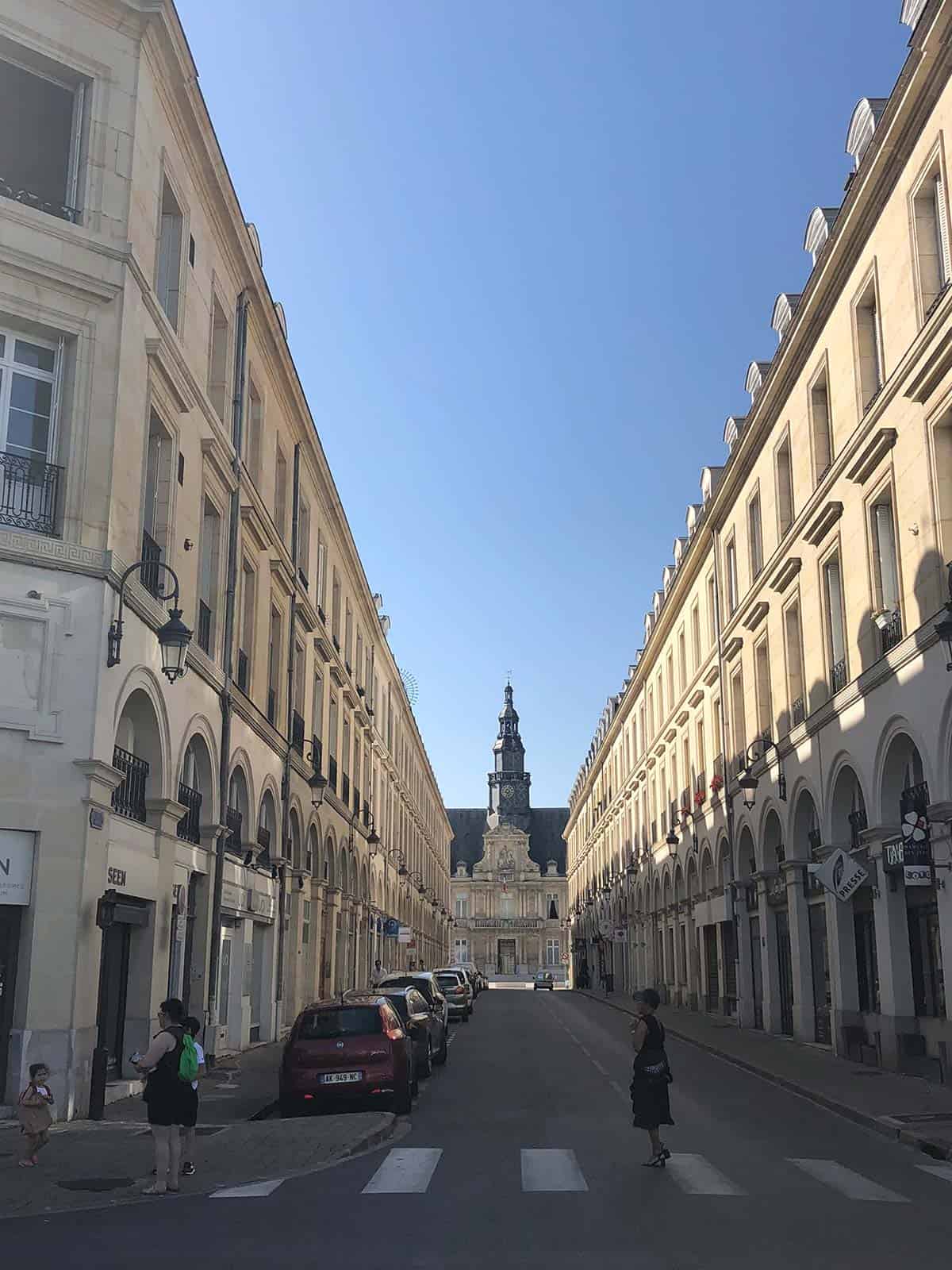 Champagne drinken bij Le Wine Bar by Le Vintage
Ik Google even naar een toffe wijnbar en ik kom al snel uit bij Le Wine Bar by Le Vintage. Ze hebben een enorm indrukwekkende wijnkaart met honderden verschillende champagnes. Maar ook wijnen uit de rest van Frankrijk en Europa en zelfs een heel klein stukje nieuwe wereld, wat wel uniek is voor Frankrijk. Ze serveren een wisselende selectie champagnes per glas en we gaan allebei voor een vintage. Ik neem de Paul Gadiot Précurseur 2012 en Willem de Alexandre Grimée Sous les Trous Meunier 2014. De Gadiot is favoriet, met hazelnoot, brioche, gebakken perzik, venkel en zelfs aroma's van zo'n hele frisse jonge geitenkaas. Deze heeft geen dosage gehad en bevat dus geen suiker. Gewoon heerlijk. Lekker complex en er valt veel in te ontdekken. De Grimée van 100% Pinot Meunier is totaal anders. Ik proef en ruik vlierbloesem, appelsap, snoepjes en appelcider. Ook zeker wat gistten als amandelen en toast, maar vooral fruit. En dus ook wel wat 'gefermenteerds' want ik proef en ruik ook iets wat me heel erg doet denken aan appelcider. Bijzonder en allebei mooi, de favoriet is wel de Alexandre Grimée.
Daarbij een plankje met charcuterie en lokale kazen. Gewoon perfect. Dit is mijn favoriete borrel: champagne met een plankje met allemaal lekkers.
Diner bij Continental
We eten daarna heel relaxed in ons hotel, waar een heel mooi restaurant in zit. Uiteraard beginnen we met champagne. Al gaat Willem voor een biertje. Deze is gewoon lekker. Eenvoudig maar een goed aperitief. Fruit, perzik, citroen, beetje toasty. Mijn voorgerecht is avocado met garnalen en grapefruit. Wat een topcombinatie is dat toch. Daarna tonijn tataki die gewoon precies is zoals het moet wezen: heel kort gegrild aan alle kanten, maar vanbinnen mooi zachtzoet rauw. Lekker met die sesamzaadjes. Na delen we een rabarber tarte tatin waarbij ik een beetje karamellisatie mis. Het smaakt goed, maar het smaakt als gestoofde rabarber en niet als een tarte tatin. Maar ben wel een beetje kritisch, hoor 🙂
Bonus: dag 3
We slapen nog één nachtje in Reims en op zaterdagochtend gaan we weer naar huis. Geen wijnactiviteiten meer op de planning, maar ik wil nog wel even de foto's van de prachtige stad laten zien. We startende dag natuurlijk met een ontbijt en bij het Contentinal in Reims was die echt perfect. Daarna wandelen we nog even door de stad voor we weer naar huis gaan.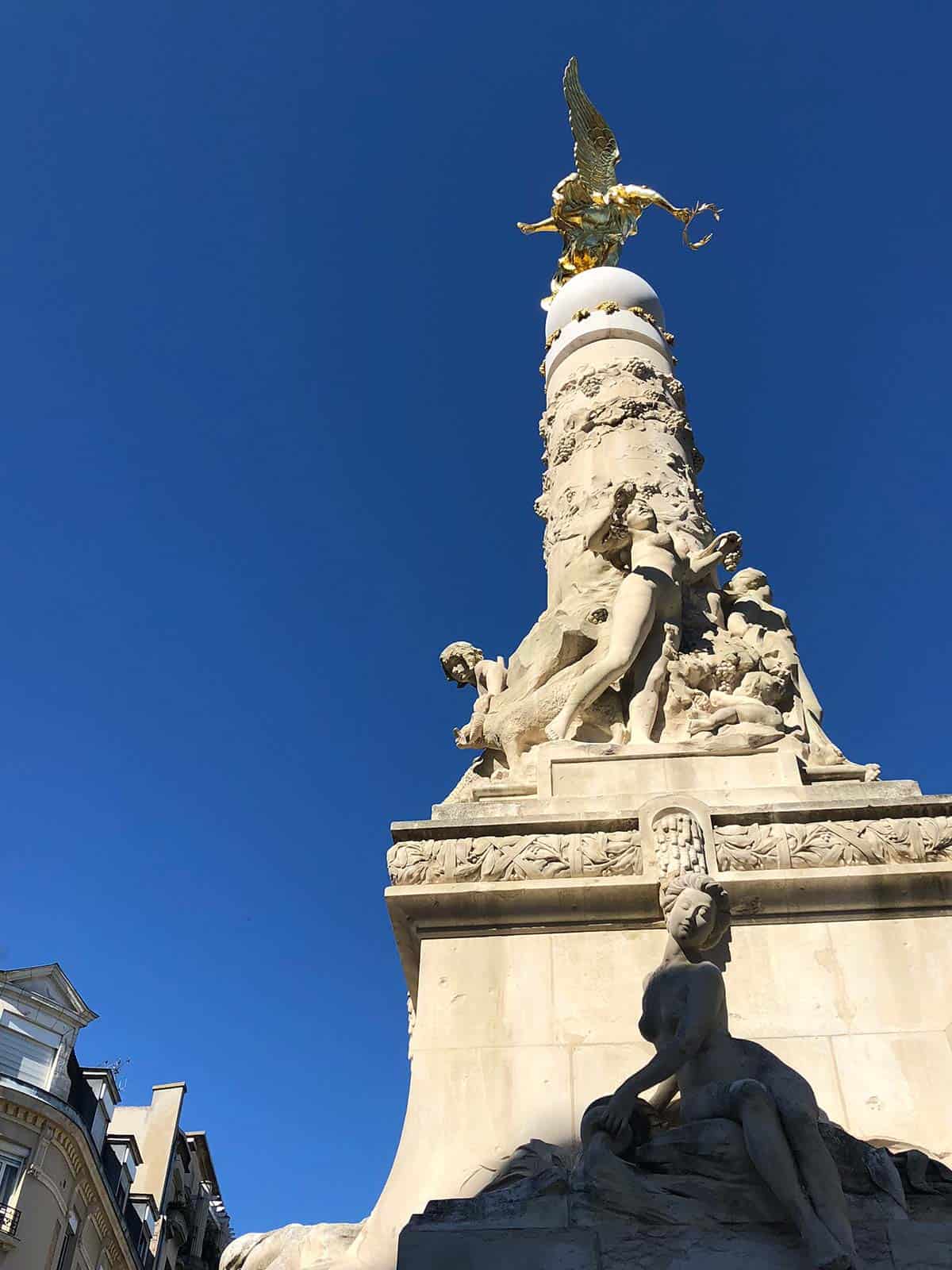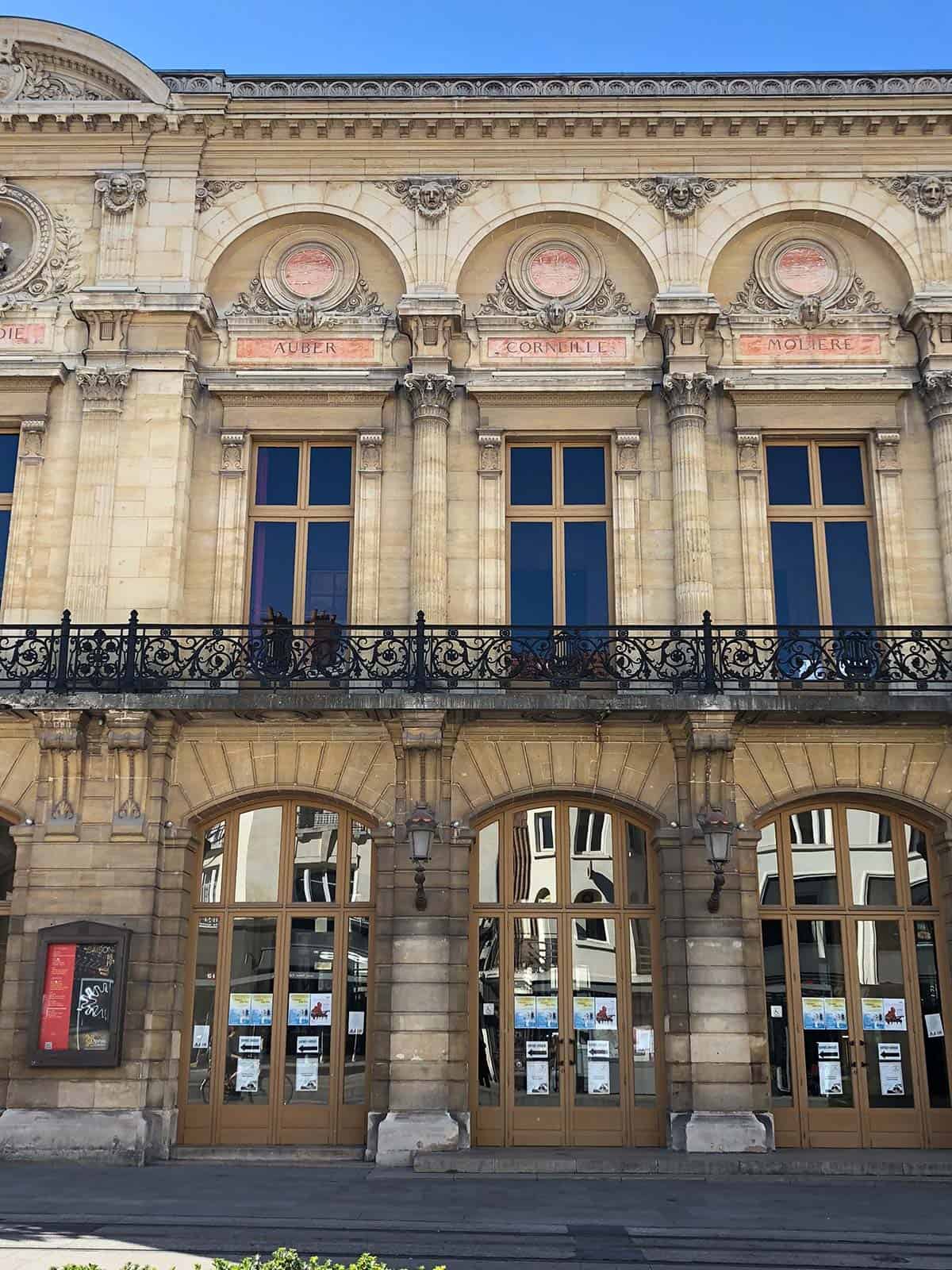 Je kan niet in Reims zijn en dan niet even bij de Notre Dame kijken. Wat indrukwekkend.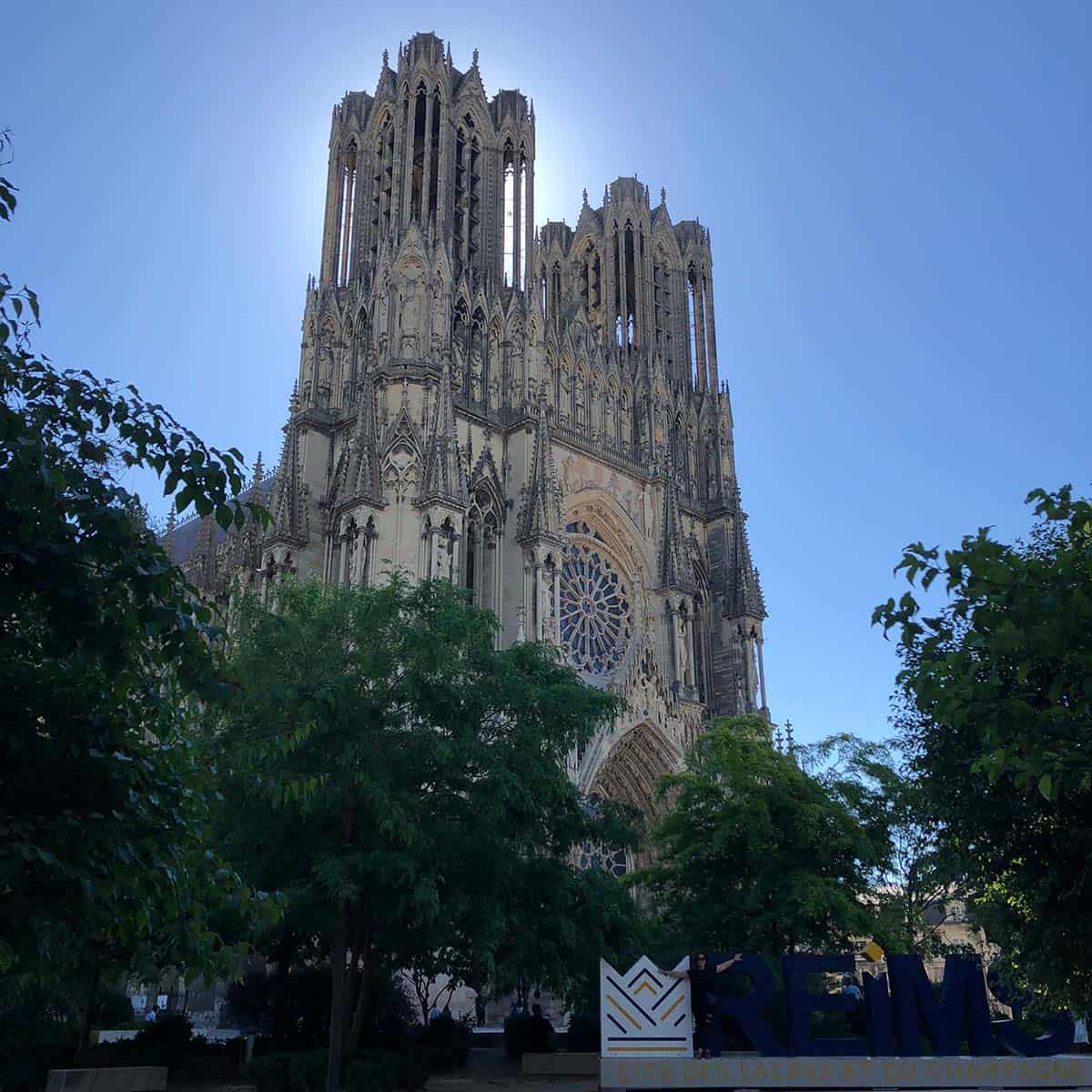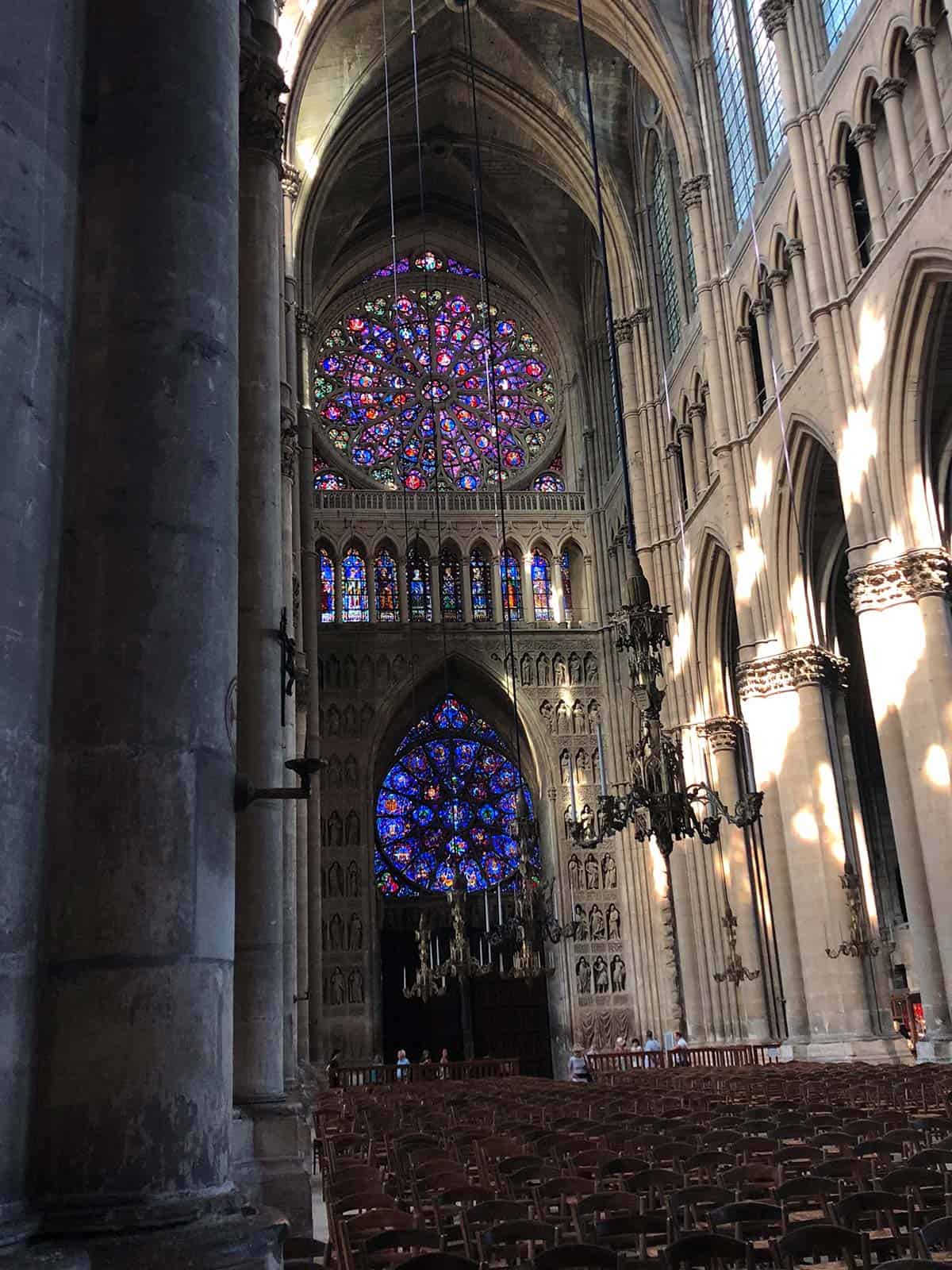 Mijn eerste Champagne-ervaring was echt helemaal te gek. Wat heb ik veel geleerd en vooral ontzettend genoten. Ik zal zeker nog een blog met mijn persoonlijke tips en tips van meer ervaren Champagne-reizigers delen binnenkort. Ik ben uitgenodigd door de Vallée de la Marne voor deze trip.