 Eten en drinken is voor mij herinnering. Dat is niet zo gek: je plakt van nature heel veel herinneringen aan geur. En eten en drinken is grotendeels geur. En ja, ik ben er nu eenmaal dol op. Vandaag deel ik mijn vijf mooiste wijnherinneringen met je, van mijn eerste glas tot mijn eerste keer in een wijngaard. 1: De eerste keer wijn
Omdat ik wil beginnen met een jeugdherinnering, moet ik wel heel diep graven. Mijn ouders zijn niet zo gek op wijn, dus de keren dat er thuis een glas wijn werd gedronken zijn op één hand te tellen. Het eerste wat bij me opkomt is een moment op de camping, een jaar of acht was ik. Ik ben bij een vakantievriendinnetje, haar ouders zitten voor de caravan met rode wijn. We mogen proeven (tegenwoordig zou dit een enorme rel opleveren). Zij neemt een slok en spuugt het rechtstreeks weer uit. Góór! Je begrijpt dat ik niet meer durfde. Het duurde daarna lang voor ik me weer aan de wijn waagde.
En dat was wel toen ik begon met uitgaan. Ik was vijftien, zestien en de bessen-jus en wodka-7Up begonnen me de keel uit te hangen. De eerste wijn die ik dronk was dus in een uitgaanscentrum, op mijn vijftiende. Of ik het écht lekker vond… Het was in ieder geval goedkoper dan mijn gebruikelijke bessen-jus. 
2: De eerste keer wijnspijs
Toen ik begin twintig was, ging ik voor het eerst naar een écht goed restaurant. Mijn vriend en ik wilden graag eens wat anders en we besloten na wat tips naar Lion Noir in Amsterdam te gaan. Ik zal het nooit vergeten. Wat ik precies at en dronk weet ik niet eens meer, maar ik weet wel dat ik totaal onder de indruk was van alle smaken, de zorg waarmee alles gemaakt was én de combinatie met de wijn. Voor het eerst bestelde ik 'een bijpassende wijn' op aanraden van de serveerster. Wow. De wijn was los lekker. Het eten was los lekker. Maar sámen! Een wereld ging voor me open. Vanaf dit moment sparen Willem en ik voor etentjes in goede restaurants en daar zijn de bijpassende wijnen altijd een onderdeel van gebleven.
3: De eerste keer in een wijngaard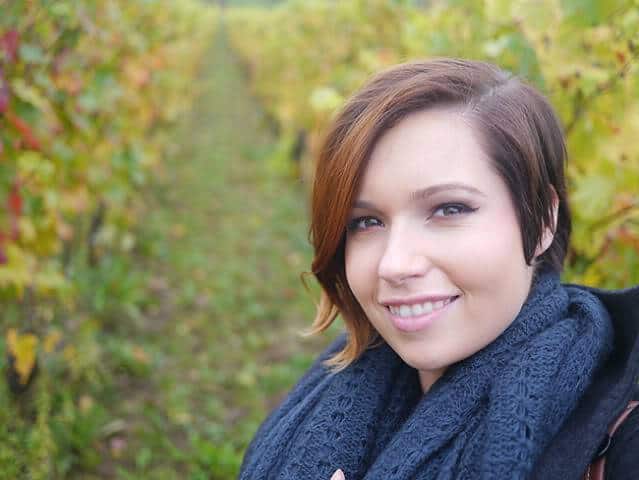 In 2012 ging ik op culinaire persreis naar de Lorraine in Frankrijk voor mijn blog (destijds Miss Lipgloss, nu Cynthia.nl). We gingen naar Domaine les Beliers, een wijngaard in Ancy. Wat een gaaf gezicht was dat, al die rijen wijnstokken. En zo tof om te zien hoe de wijn gemaakt werd, al snapte ik er geen bal van. Wel kreeg wijnranken toch een nieuwe dimensie, toen ik eenmaal gezien had wat er nu allemaal vooraf gaat aan zo'n fles wijn.
De wijn mochten we natuurlijk ook proeven, en ik heb geen idee meer hoe het smaakte, wel dat ik het heel raar vond om de wijn weer uit te spugen. 
4: Champagne uit 1992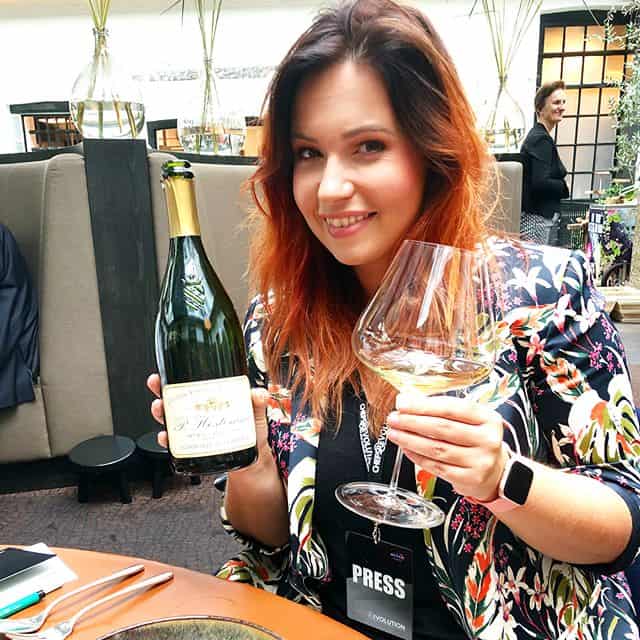 Afgelopen zomer had ik de enorm grote eer om mee te doen aan het wijnspijs diner bij De Librije tijdens Chef's Revolution. Er werden zes gangen geserveerd van verschillende sterrenchefs, met hun eigen wijnspijscombinaties. Alles was natuurlijk heerlijk en indrukwekkend, maar ik werd helemaal lijp van een Champagne uit 1992. Er zijn maar 174 exemplaren van gemaakt, heeft 21 jaar (!) op de lies gelegen en daarna nog vijf jaar gerijpt op fles. De wijnstokken zijn 45 jaar oud. We wijn is mooi geel van kleur, met nog steeds een stevige bubbel die ook na een kwartier nog in het glas zat. Overweldigende aroma's van geroosterd brood, brioche, citroen, amandelen, iets licht rokerigs en wat overrijp fruit. De zuren waren nog goed aanwezig en samen met het gerechtje werd de champagne nog nootachtiger. Dit zal ik gewoon nooit vergeten. 5: met Annemieke & Marjan in de Ahr
Samen met wijnvriendinnen Annemieke en Marjan reed ik in augustus naar de Ahr om onszelf onder te dompelen in alles wijn. We bezochten zes wijnhuizen, proefden zo'n honderd wijnen (waarvan hoofdzakelijk Spätburgunder) en hadden vooral heel veel plezier met elkaar. Wat is het tof om zo'n passie met elkaar te kunnen delen en dan daaromheen ook nog veel lol en goede gesprekken met elkaar te hebben. Wijn verbindt, en dat vind ik prachtig.  
Wat zijn jouw mooiste wijnherinneringen?