 Laatst deed ik op Instagram een Ask Me Anything: je mocht me alles vragen over wijn. Vandaag ga ik het eerste deel van deze vragen beantwoorden! Van wat mijn favoriete wijn is (ik mocht er maar één kiezen!) tot welke supermarktwijn ik zonder nadenken uit het schap gris. Komt 'ie…
Wat is jouw favoriete rode en witte wijn?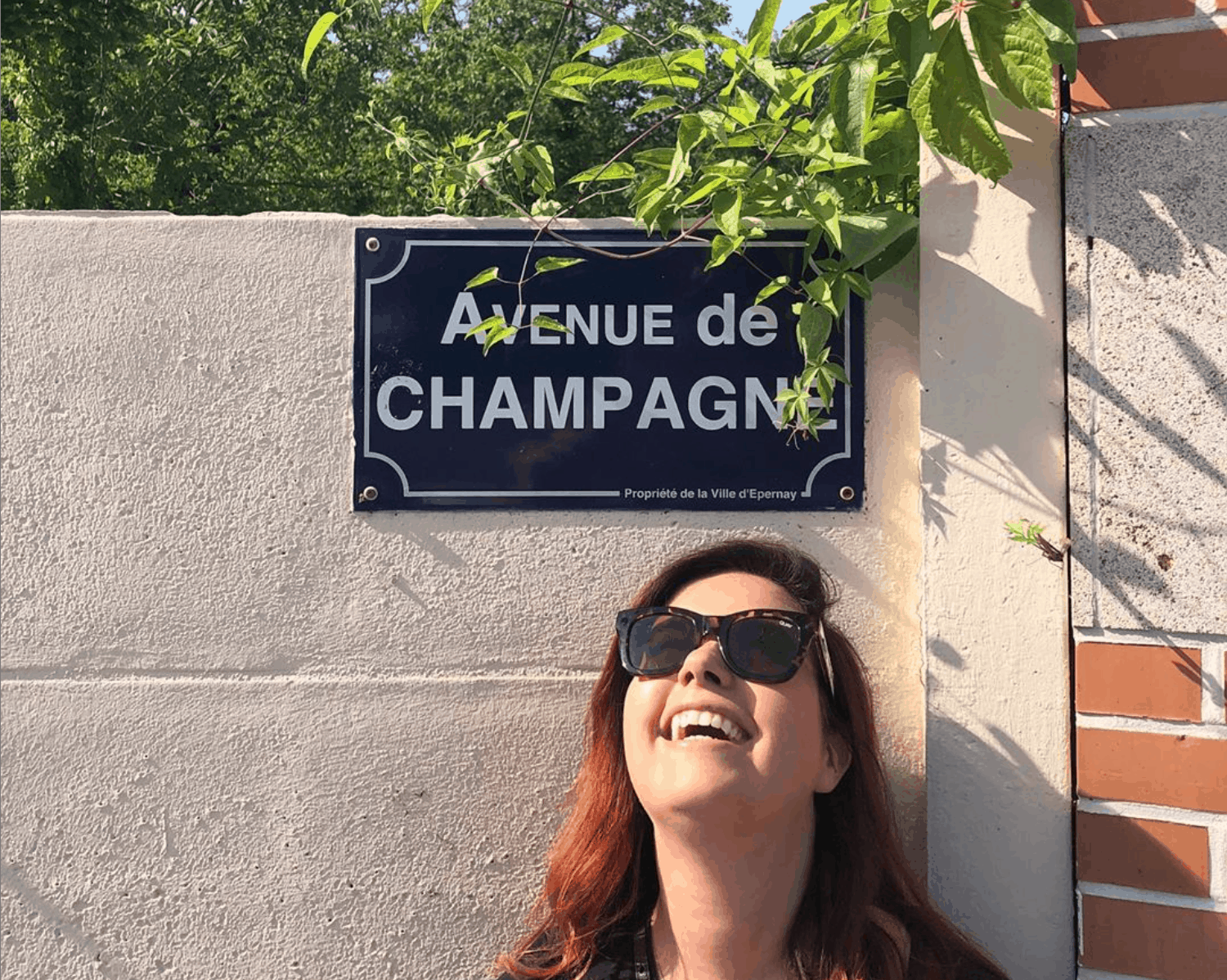 Deze vraag heb ik meerdere keren gekregen en ik móet kiezen. Goed. Dan ga ik dus wel voor iets wat ik echt ultiem lekker vind en wat ik forever zou kunnen drinken.
Bij wit vind ik dat vrij makkelijk. Ik twijfelde heel even tussen witte Bourgogne (en dan echt supergoede, denk Meursault) of Vintage Champagne, maar dan ga ik toch voor dat laatste. Champagne is gewoon zó lekker. En vintage Champagnes hebben vaak zo mooi dat gelaagde, dat gerijpte. Fris en fruitig maar ook hazelnoot, brioche, amandel, soms vanille. Oh, wat is dat heerlijk.
Rood vind ik echt een stuk lastiger. Dat drink ik ook veel minder vaak, realiseer ik me nu. Hier weet ik gewoon geen antwoord op. Ik heb nog geen rode wijn waarvan ik zeg: ja, dat zou ik altijd kunnen drinken. Of dat bestel ik blind van een wijnkaart.
Welke wijn raad je aan voor een beginnende wijndrinker?
Ik pak hier even het advies van Harold Hamersma bij die ik vorig jaar voor mijn blog mocht interviewen, want met dit advies ben ik het roerend eens:
'Wanneer je koffie leert drinken, drink je die eerst zacht en romig. Met melk en suiker. Langzaam minder je met die romigheid en zoetheid en ga je de bittere, donkere, krachtige substantie lekker vinden. Zo is dat met wijn ook. Begin makkelijk, zacht. Mijn aanraders:
– witte wijnen met minder zuur, zoals een Viognier. Dit is een zachte wijn met smaken van abrikoos en perzik. Niet te droge Riesling is ook een goede, kies dan voor een met 'feinherb' op het label, die zijn lichtzoet. En een Elzas Pinot Blanc of Pinot Gris en wijn van droge Muskaatdruiven.
– rode wijnen met zachte tannines. Instap-Beaujolais of Pinot Noir uit Chili. Deze zijn soepel en zacht. Drink ze iets koel.'
Ook denk ik dat je als beginnende wijndrinker blij wordt van bijvoorbeeld een Negroamaro of Primitivo uit Puglia, Italië. Dit zijn hele 'rijpe' wijnen met veel fruitsmaken en zachte, fluwelige tannines. Ook ken ik veel beginnende wijndrinkers die een Nieuw-Zeelandse Sauvignon Blanc heerlijk vinden. Veel smaak, superfruitig en fris.
Als je geen blog(s) had, wat was je dan met wijn gaan doen?
Ik had dan ook wel de WSET-opleidingen gedaan, want die interesse was er ook geweest zonder blog(s). Misschien had ik dan wel een serieuze zaak gemaakt van lesgeven en mijn eigen bedrijf starten in de wijn. Het is in ieder geval voor nu altijd nog een back-up plan. Wijn is zó leuk, daar zou ik zo fulltime mee bezig kunnen als ik dat zou willen.
Als je meer wilt weten over wijn, maar het niet gaat toepassen in bijvoorbeeld je werk. Welke cursus kan je dan aanraden?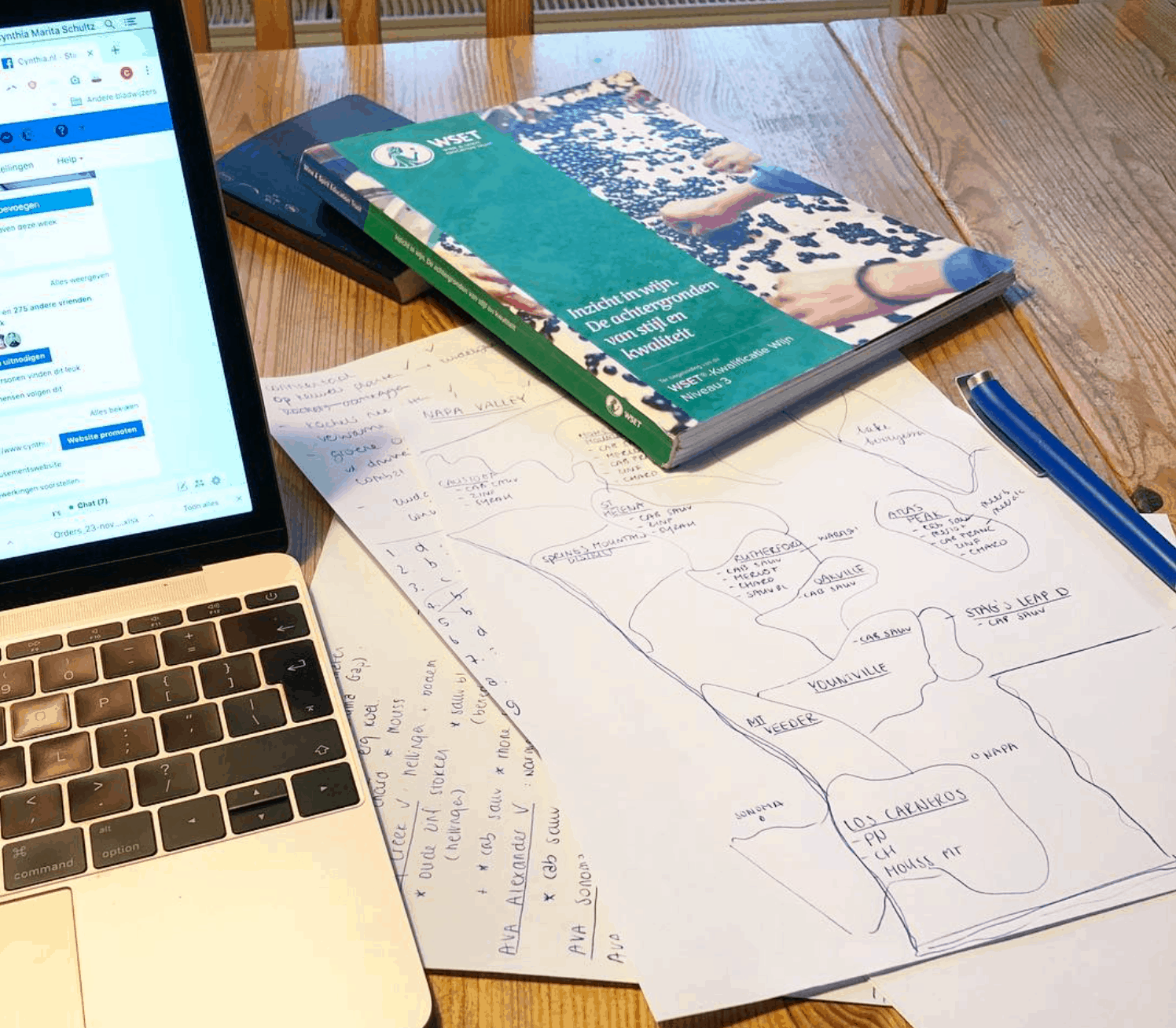 Ik had ook dit doel en ik ben toen begonnen met WSET. WSET is de Wine & Spirit Education Trust en zij bieden internationaal erkende opleiding onder andere over wijn. Ik wilde zelf persoonlijk geen 'random cursus' volgen, maar wel iets wat getoetst werd en waar ik een certificaat voor zou krijgen. Voor je weet maar nooit… Maar ik ben zelf heel erg van 'ik doe iets goed of ik doe het niet'.
Veel wijnwinkels bieden ook cursussen aan, of introductieavonden over wijn. Zoiets zou je ook kunnen doen als je wel iets meer wilt weten, maar als je er niet zó serieus mee bezig wilt. Al zijn WSET level 1 en level 2 nog heel goed als hobbyist te doen en dat is ook allemaal superinteressante en leuke kennis!
Welke wijn vind jij nou echt vies? Bepaalde aroma's bijvoorbeeld?
Vieze wijn is voor mij slechte wijn of foute wijn. Dus wijn waarbij echt iets mis is gegaan bij het wijnmaken en dat je dat terugproeft. Of gewoon wijn die heel slecht gemaakt is. Die geen karakter heeft of juist funky smaken die niet kloppen. Of juist aroma's die helemaal uit balans zijn doordat ze poedertjes en druppeltjes hebben gebruikt. Dat zet ik weg en dan drink ik vele malen liever een biertje.
Ik vind onrijpe wijnen niet lekker. Niet vies, maar ik houd er niet van. Dus vooral rode wijnen die echt onrijp smaken, dat proef je doordat de tannines héél wrang zijn. Alsof je op de pit van een druif kauwt. Maar ook vind ik juist de intens jam-achtige wijnen ook niet meer zo fantastisch. Dus twee uitersten, eigenlijk.
Vind je sinds je de WSET cursussen bent gaan doen andere wijnen lekker?
Ja. Vooral omdat ik gewoon veel meer ben gaan proeven. Ik heb zoveel meer en zoveel verschillende wijnen geproefd dat mijn smaak veel breder is geworden, maar ik heb ook gewoon dingen geproefd die ik nooit eerder had geprobeerd.
Ik hield altijd heel erg van wijn met enorm veel smaak. Alles moest veel. Veel smaak, veel body, veel hout. Als er maar veel smaak aan zat. En ik hield van heel erg rijp. Dus tropisch fruit, gebakken fruit, alles wat je maar in jampotjes kan vinden.
Nu houd ik meer van wat verfijndere smaken, waar je wat meer in kan ontdekken. Gelaagder, vooral meer de tertiaire smaken zoals bijvoorbeeld noten in witte wijn en paddenstoelen in rode. Dat hele jam-achtige wat ik vroeger heel lekker vond, is niet meer waar ik nu voor zou kiezen. Misschien wel bij sommige gerechten of op een specifiek moment, maar ik trek het niet meer klakkeloos uit het schap.
Ben je weleens in Stellenbosch geweest? De lekkerste Zuid-Afrikaanse wijn!
Nee, maar staat vrij hoog op het lijstje!
Haal je nu nog weleens wat uit de supermarkt nu je beter kan proeven?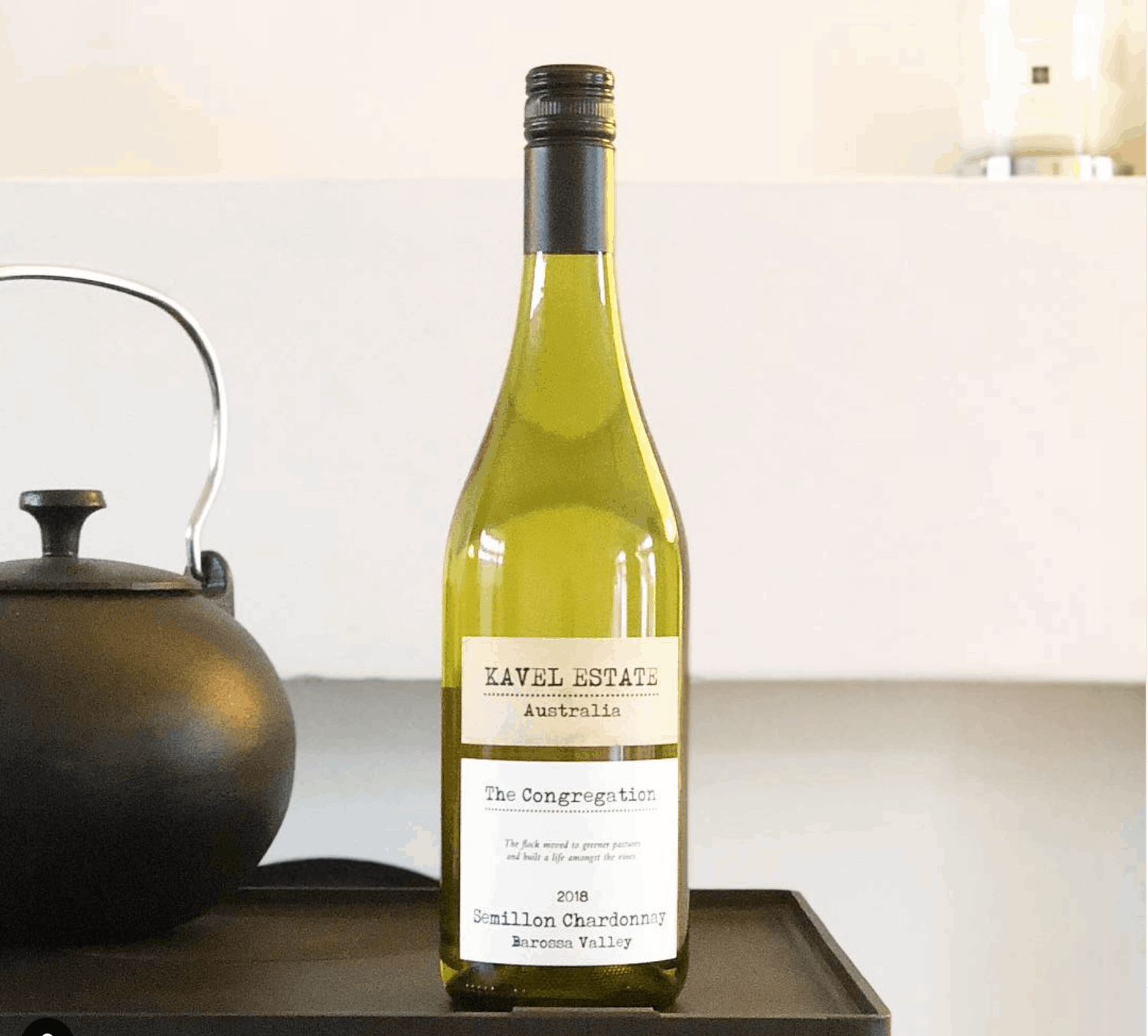 Als toevoeging op de vraag: (Ik vind dat steeds lastiger omdat ik veel niet lekker, eendimensionaal of 'troep' vindt. Dit is overigens soms nog best een dingetje als ik bij anderen kom en ze hebben speciaal voor mij die bonuswijn gehaald, 'want jij houdt toch zo van wijn'. Dan maar bier!)
Jawel! Maar niet zo vaak meer. Ook doordat ik doordat ik weleens op wijnreis ga, meestal wel wat lekkers in de kelder heb liggen. En omdat ik graag naar de wijnwinkel ga. Ik vind dat gewoon leuk, om iets moois uit te kiezen en een praatje te maken over de wijn. En in de wijnwinkel kan je óók voor onder een tientje hartstikke mooie dingen halen.
Maar ik koop zeker nog weleens wat in de supermarkt, maar dan ben ik wel heel kritisch. Ik zou nooit zomaar iets in mijn karretje gooien. Vroeger kocht ik altijd Aliwen bij de Albert Heijn. Vind ik nu niet meer zo speciaal, maar haal ik nog weleens. En Jumbo heeft wel een goede wijnselectie, ik vind hun Three Thieves wijnen goed en lekker. En hun Cheval de Katarzyna Chardonnay is lekker. Dik en fruitig, uit Bulgarije. Die op de foto is ook prima!
En wat jij zegt herken ik wel, ja. Dat is lief natuurlijk als mensen die moeite doen. Ik drink een glas en als ik het niet wat vond, ga ik over op bier (of fris). Ik drink niet om het drinken, maar omdat ik wil genieten van een lekker glas wijn. Als ik iets niet lekker vind, dan drink ik het niet.
Wat is je 'huiswijn' voor feestjes en verjaardagen?
Toevoeging aan de vraag: Ik had ooit eens een doosje hele lekkere en ook prijzige gehaald voor een verjaardag en ik baalde de hele avond dat die flessen zo achterover geklokt werden zonder dat er echt van genoten werd… Dat doe ik dus niet snel weer.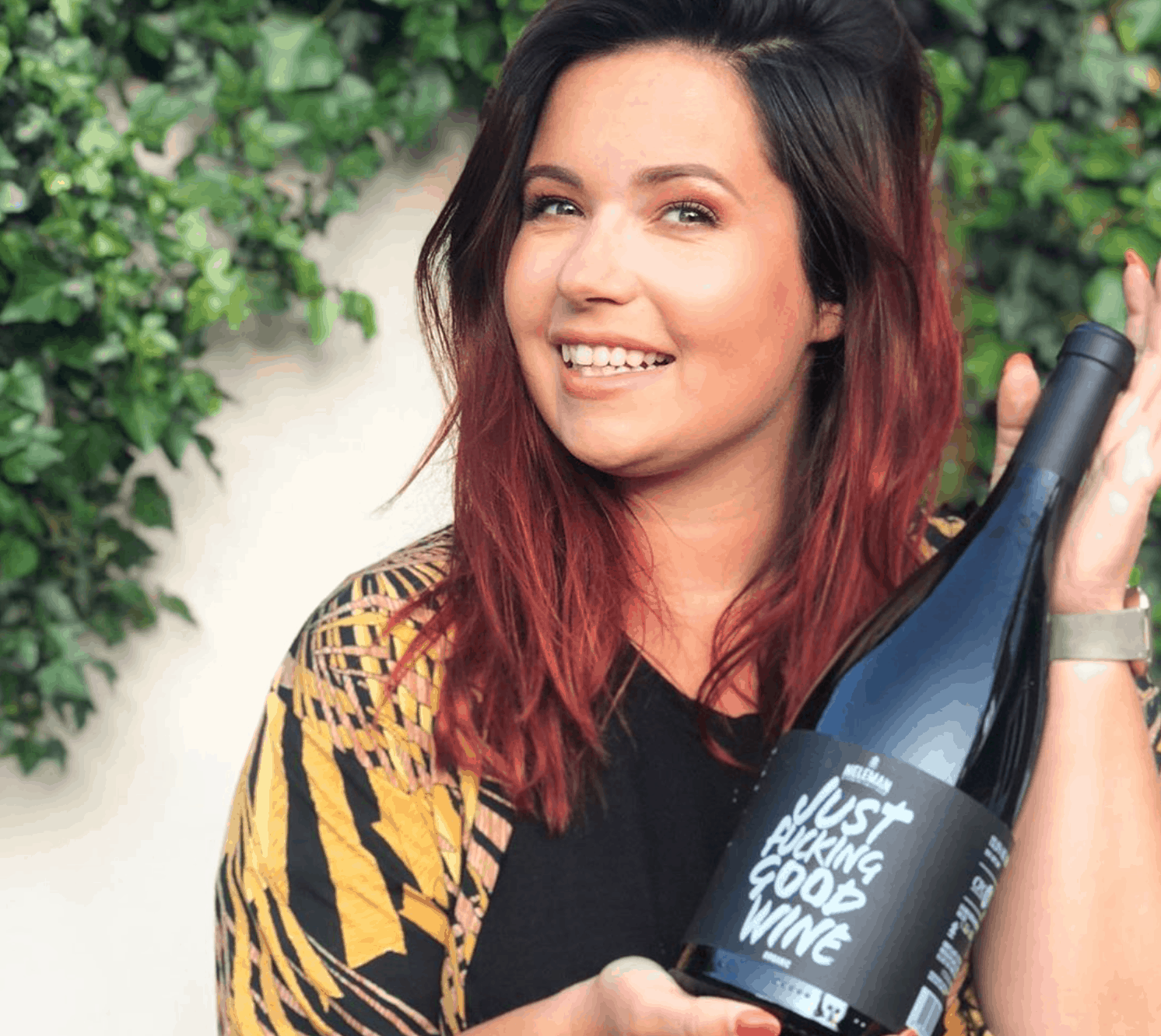 Ohhh, dat is zonde. Je moet je mooie flessen bewaren voor mensen die het echt kunnen waarderen. En dus niet zomaar op een feestje schenken waar het klakkeloos in de keeltjes gegoten wordt. Behalve als je heel veel geld hebt en het maakt toch niks uit 😉
Mijn witte huiswijn voor feestjes is de Just Fucking Good Wine van Neleman. Chardonnay, tikje romig, tropisch fruit en vanille. Die is normaal €11, maar ze hebben weleens een actie en dan is 'ie €7,50. Inslaan dus. Voor mijn verjaardag afgelopen jaar had ik er ook een magnum bij, was leuk.
Rood vind ik ook hierbij weer lastig, maar bij mijn verjaardag had ik de Domaine Fontanel Rouge, uit Cotes de Rousillon, van Grenache, Syrah en Mourvedre. Fruitig, kruidig, leer. €8,95 per fles bij Henri Bloem.
Goedkoper kan uiteraard ook, maar ik wil zelf ook dolgraag iets lekkers drinken als ik een feestje vier.
Voorkeur voor een bepaalde pinot gris?
Nee, ik moet zeggen dat ik niet zo vaak Pinot Gris drink… Moet verandering in komen, dus?
Ga jij een wijnspijsboek schrijven of een masterclass geven?
Dat eerste staat niet op de planning! Wijnspijsavond heb ik afgelopen jaar al eens met Restaurant het Weeshuys georganiseerd, gaat misschien nog wel een keertje gebeuren.